First Day Here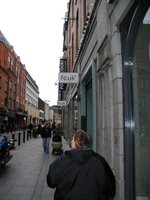 First day here... We're stuck on the taxiway at the airport for 45 minutes waiting for the gate to be freed up. When we go to pick up the rental car, the travel agent has it booked starting TOMORROW instead of today. I guess they expected us to spend the first night in the airport.
Once we got the car thing straightened out, I had to dive in and get the hang of driving on the left side of the road while sitting on the right side of the car, navigating roundabouts, and learning that drivers in Dublin are just as big of assholes as drivers in the states.
Streets are very poorly marked in Dublin. Lots of one way and no right turn, etc. Streets are extremely narrow. Traffic lights are sometimes red and green with an arrow at the same time. It's chaos. Throw in the jet lag and it's a miracle we've survived!
We're stopped at some random coffee shop on some random alley street in Dublin's City Centre and ordered a hot americano. Surprisingly, it tastes a lot like Starbuck's blend (over-roasting included). Good, though.
The picture is from just down the street. It's a real company - check out www.fcuk.com if you're curious. I think I've seen pictures of this before from someone else that travelled to Europe, so you may have seen it before. I thought it was worthy of a picture in any case.