The Hill of Tara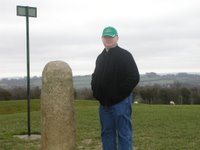 We made it out of Dublin and to Kilmessan in County Meath where our bed and breakfast for tonight is located. There, we met Teresa who gave us directions to the Hill of Tara. If you don't know the history of it, it was a very important place for the druids - kings were crowned here, some were buried here, and lots of their ceremonies took place here. More recently, it's famous as the place St. Patrick confronted King Loegaire of the druids. There is a cute little church on the hill with a statue of St. Patrick outside. A fitting place to visit on St. Patrick's day, I think.
They say that from the top of the hill, you can see five Irish counties. It's very foggy and rainy today, but the view is still spectacular. And the sheep they let run free up here are cute. :)
The picture is me standing next to the
Lia Fáil (Stone of Destiny)
. This is where the kings of the druids were crowned on the hill. Some say it's an ancient phallic symbol... I'd have to agree.