Rugby and Guiness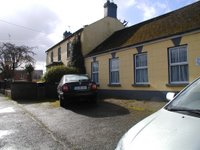 We made our way back to the bed and breakfast to drop off the junk we got at the gift shop then headed into the pub across the street. It was packed with gents watching the rugby 6-nations championship game - Ireland versus France. France won due to a controversial call by the referee in the final seconds. I agree with the irish fans - it was a bad call.
After downing some Guiness, we walked down the street to a restaurant in a hotel and ordered more Guiness. The Guiness is really good here, by the way. I can't figure out why all the pubs have Budweiser on tap, though...
This is a picture of the B&B we stayed in.