The North Coast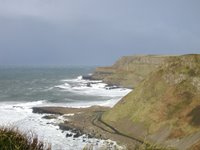 What a beautiful drive. We followed the coast all the way north - through Belfast and up to Cushendall where tonight's bed and breakfast is located. We got snowed and sleeted on a few times, but the sun shone through some as well. We stopped and took some pictures of the snow on the hilltops and of the ocean rolling into the cliffs.
Rather than stop in Cushendall immediately, we continued up the coast to see the
Giant's Causeway
. The high winds and cold weather made it a chore to walk up the cliffs. Then, at the top there was a sign saying the path was closed due to a rockslide. We may go back in the morning and try to catch the bus back so we can see the stone formations. At least we got some more beautfiul pictures of the ocean...
This picture was taken from atop one of the cliffs near the Giant's Causeway. All of the views on the north shore are this beautiful - if you ever come to Ireland, it's worth the trip to come up north!